Welcome Saturday internet surfers of the virtual kind, to CozeySL's first preview of Second Life's longest running Home and Garden event, The Expo!
Nomad will be featuring this beautifully meshed (crafted!) golden, glittery themed set as a Gacha for The Expo. Gachas are relatively new to the Expo, and I had a chance to tour both areas (yes there will be 2!) with utmost excitement! (yes judge away!)
Nomad's Broken Makeshift set will be available for you savvy shopperettes, and this year's donated items. For this scene, I took the glam factor down a notch, or 10, and thought the pieces would go perfect with a few things from floorplan. I'm really pleased with how the shot turned out and decided to share it in all its raw glory.
I still use the Black Dragon viewer for a majority of the Home and Garden posts here on CozeySL and the Windlight today cooperated for like, the fiiiiirst time in foreeeverrrr. (I sing that a lot around here.)
True North Designs' Mediterranean Lounge set is available during the Expo as well with a special intro price, so be sure to look that all up and close like. Also here are TND's Expo items this year: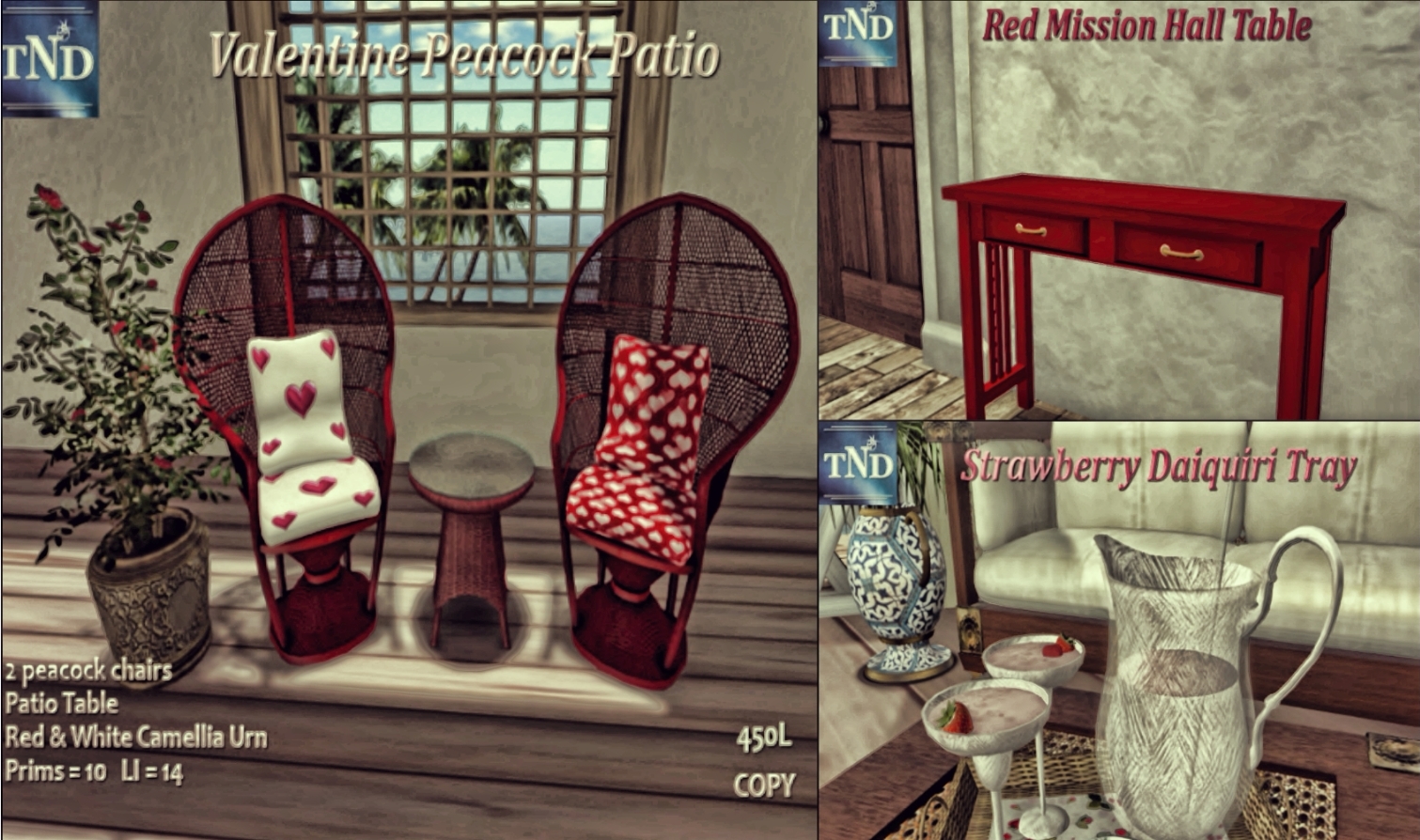 This particular exhibit will take you through many of TND's existing sets for each of the rooms in your home.. lots of decor to nab as well so do browse thoroughly.
I've created a page here on Cozey which includes pertinent Expo information, its not meant to replace the main website, which I encourage you all to visit. It's more of a reference sheet I suppose. The Landmarks will take you to each exhibit throughout the 9 regions. There are teleporters available as well, and that first slurl will take you to them. 
Feel free to bookmark my 'Second Life Home and Garden Expo Reference Page' for your own personal use. Remember the slurls will not work till the day of opening, in our case this'll be at Midnight SLT tonight (February 14th). Please let me know if any of the links do not work, and I'll holler for another limo.
Correction on the time!!.. HGE will be opening officially at 9amSLT February 14th. 
So SL Home and Garden faaammm! Are you ready to Expo?
Don't forget to check out the official HGE 2016 Flickr pool that includes fellow blogger images and previews. They'll give you that inspiration to relay just yet!
---
Scene 1 – Near the ocean Blue
*True North Designs Mediterranean Lounge Set | HGE 2016 Coming Soon!
True North Designs Fish Wall Mosaic
True North Designs Mediterranean Table Lamp – Sea Foam
True North Designs Mediterranean Low Cabinet
True North Designs Mediterranean Hexagonal Side Table
True North Designs Potted Canopy Palm Plant
-Special introductory price only at the Expo
*True North Designs Monterey Wall Lantern – Owner Touch
*NOMAD All that Glitters Gacha Set | HGE 2016 Coming Soon
NOMAD // 06 // Gilded Gold Room Divider
NOMAD // B // Golden Pinapple Deco // RARE
NOMAD // 03 // Deco Armchair B
NOMAD // 01 // Deco Armchair A
NOMAD // 02 // Deco Pouffe
NOMAD // A // Antique Palm Tree Lamp // RARE
-Click here for full ad with all pieces
*NOMAD // Repurposed Barn | Shiny Shabby (ends Feb. 15th)
Other Items:
The Loft – Stone Bowl
The Loft Claryon Curtains
Zaara [home] : 6 Sandstone elephant
Zaara [home] : Ikat dhurrie rug *beige*
Alouette – Medieval Candle Style 1
AF Fern Specimen
AF Unknown Specimen
AF Huge Fan Palm
Tartessos Arts Sensation Plant
---
Scene 2- Route to Nuisance
*NOMAD //Broken Makeshift Set (RFL Donation Items) | HGE 2016 Coming Soon
NOMAD // Makeshift Bench 01
NOMAD // Makeshift Bench 02
NOMAD // Barrel Fire Green
NOMAD // Barrel Fire Red
NOMAD // Old red worn chair
NOMAD // Old blue broken chair
Other Items:
Apple Fall Omega Beer
Army Stone Tap Hose
floorplan. commit no nuisance sign
floorplan. route 66 leaning sign
floorplan. headlamp lights
Junk Windchime by Angharad Greggan
oyasumi / rakes&stuff
.02 [ kunst ] – Pegboard RARE
dust bunny . garden wheelbarrow
Pixel Mode – Fall Harvest – Fence Corner
Sari-Sari – Log Cabin
Frog Garden Ivy Black
[we're CLOSED] wild flowers
[we're CLOSED] grass field dry