Here's one for all you loungers who love sleeping in, I've set up a sweet little spot here at Cozey for the days when we need a little frilly.
Oh, and another, just because it's always great to have another set of eyes. Vertigo really captures all the twinkling lights in a perfectly subtle way and great choice of windlight: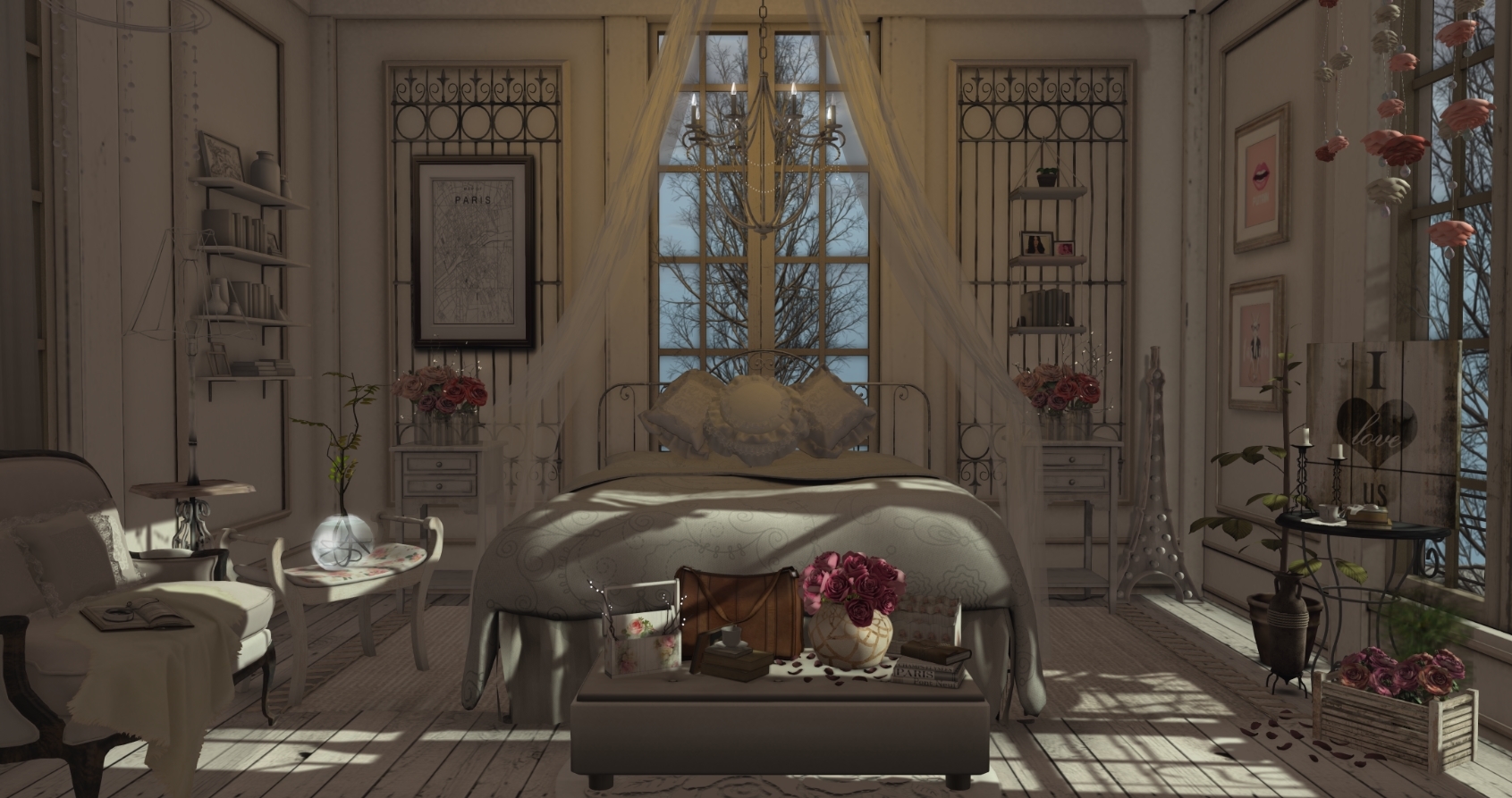 Tarte's Aurora bedroom set is currently available at Uber and includes a total of 4 pieces (not pictured: elephant marquee, recycled christmas tree). Do take the linky dink to Uber and see them up close like..try the poses, animations, under your preferred windlight of course.
I went ahead and 'set up shop' in the smaller portion of Ariskea's [Petite Paris] Skybox (won on the 3rd pull woot!) mainly to take advantage of window placements. Speaking of which, Ariskea's latest feature for FaMESHed are those ahhhhmazingly yummy looking roses littered abouts the room. The Nordica Hybrid rose series are probably going to be THE deco item of this better part of the year, in my not so humble opinion.
And she does a marvelous job with detail, its a true testament to how talented our current pool of Second Life content creators are. Eat your heart out Sims!
Do let me know in the box below if you have any questions, comments, suggestions or whatnot as I roll the credits, and as always, thank you for continuing to visit us here at CozeySL.com ❤
---
*tarte. aurora bed | UBER SL
*tarte. aurora side table | UBER SL
*[ zerkalo ] Winter Dream Dark – Couch | FaMESHed
[ zerkalo ] Winter Dream – Rug
[ zerkalo ] Winter Dream Dark – Table
[ zerkalo ] Winter Dream – Books1
[ zerkalo ] Winter Dream – Books2
[ zerkalo ] Winter Dream – Round Pillow
[ zerkalo ] Winter Dream – Square Pillow
[ zerkalo ] Winter Dream – Three Pillows

*N4RS Sense Chandelier – White | FaMESHed
*unKindness – Rose Hill Letterbox White | FaMESHed
*unKindness – Rose Hill Craft Box White
*unKindness- ILoveUs Artwork
*Ariskea[Nordica] Crate of Roses | FaMESHed
*Ariskea[Nordica] Hybrid Roses Peach, Cherry, Violet
---
Apple Fall Bushmead Railing Short (White)
Alouette – Hanging Book Shelf – Neutral
ASO! Hana ga Saku (pink/white)
Bazar
Paris – Map of Paris frame
Paris – Books
Traveler-Plant1
Traveler-Roman amphora
Traveler-Book&Clock
Bathroom plant
Floria bedroom rug
Traveler-Bag 2
Toronto-Wire candlesticks
Arizona bedroom otoman
floorplan. eiffel tower marquee
Fancy Decor: Small Stool (white)
Fancy Decor: White Wash Shelves
---
*Apple Fall Twinkling Birch Modified
*Vagabond – Betsy's Reading Lamp
*[ zerkalo ] Evelin's Bathroom – White Rose Petals Round (modified)
*[ zerkalo ] All White – Canopy
---
These are all from this past Arcade Gacha Event (December 2015)
aisling. Water Plant (common)
Razzberry Prbit o' Pearls (common)
Ariskea [ Petite Paris] Mais Putain Frame (common)
Ariskea [Petite Paris] Skybox Build RARE
Ariskea [ Petite Paris] Les Roses Anges RARE