Your eyes are a reflection of your spirit, windows into your soul.
N21 has opened its doors to a fantastically fun winter themed extravaganza and Cheeky Pea presents us with a few choice pieces in the Huisje series. I've got two words: 'Floating' 'Shelves'.
Right…I don't get why they call 'em that either besides the obvious, but you can totally change them up for whatever purposes even a uh, 'floating window sill'! Do check out the Huisje set at N21 which is now in full swing.
Also Sari Sari is participating in the Christmas on 34th Street with a tantalizing treat for you foodies out in SL land. If you're a fan of gingerbread cakes, this one is a 10 in cute factor and nary an inch on the waistline.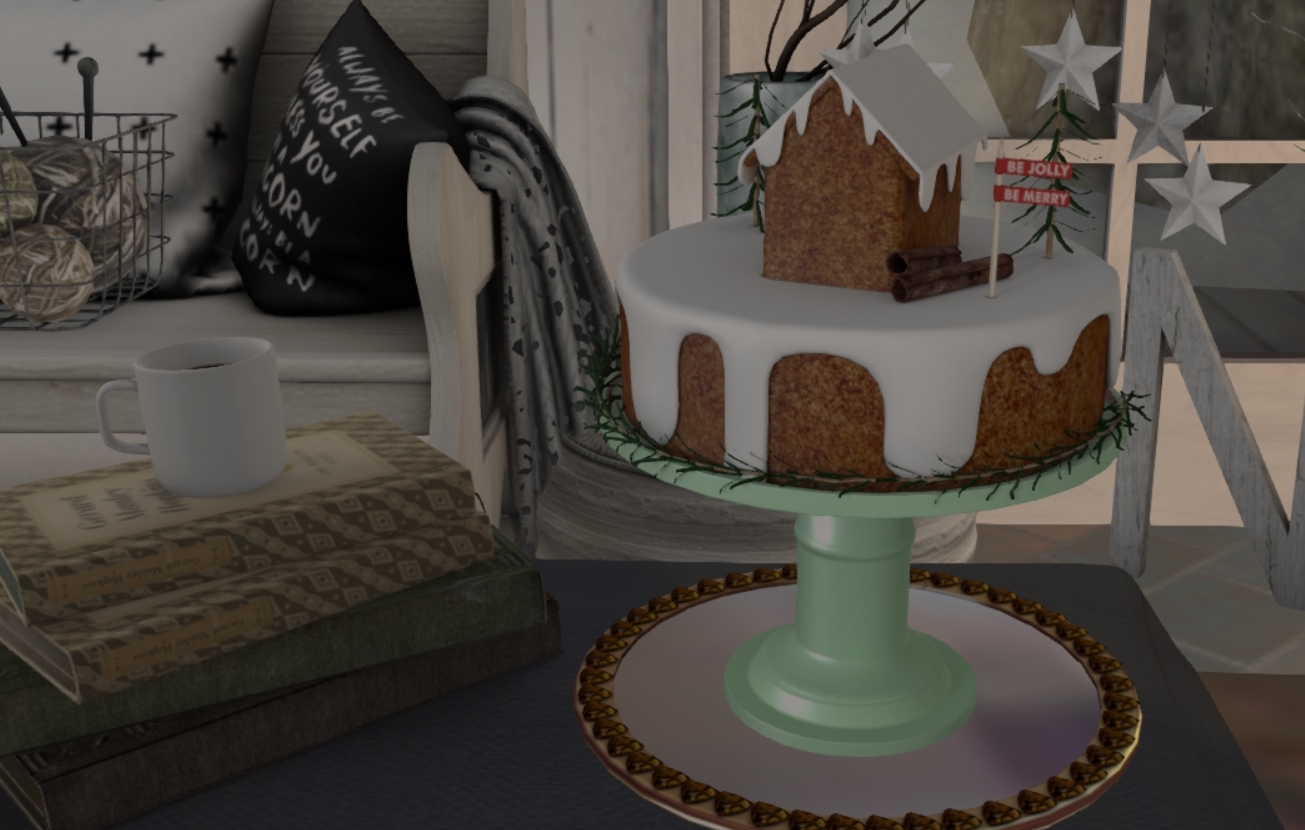 Speaking of waistline, I must make haste to the Cozey kitchenette as we have been tasked to bake a plethora of our own gingery treats. See what media can do to a body? Subliminal messaging at its best.
If you have any questions or comments feel free to leave them in the box below.
---
*Cheeky Pea Huisje Settle | N21
:CP: Huisje Double Floating Shelves
:CP: Huisje Log Basket
:CP: Huisje Candle Log
:CP: Huisje Pouffe (PG) – Snow
:CP: Huisje Pouffe (PG) – Nightshade
:CP: Huisje Houses
:CP: Huisje WallArt
:CP: Huisje Pinecone Lighted Wreath
*Cheeky Pea Taylor Scalloped Wall Light | Uber
Cheeky Pea Taylor Wood Tree Light | Uber
*Tarte Winter Lantern | N21
*[IDEZA Furnitures] – Around the Fireplace – Seat | Lost & Found
*:::ChicChica::: Mirror RhiGold common | Lost & Found
*Sari-Sari – Gingerbread Cake | Christmas on 34th Street
*DaD DESIGN "Sweet Maine Cabin" | More info here
*Stockholm&Lima: Snowflake Wall Lights | FaMESHed
*[PM]Pixel Mode – Lights – Straight – Long | Love to Decorate The Event
*[ zerkalo ] Shiny Shabby Christmas Tree | Shiny Shabby
Apt B // Simple Xmas Noel RARE | Shiny Shabby
Apt B // Simple Xmas Moose
Apt B // Simple Xmas Joy Board
Apt B // Simple Xmas Joy Jars
Apt B // Simple Xmas Chair

BellEquipe Design Store Lighted Branches | Shiny Shabby
Trompe Loeil – Haldis Holiday Tapestry | Collabor88
 The Loft – Monochrome Christmas Fir Garand White M | Tannenbaum Market
---
*hive // vintage laundry basket
Kalopsia – Knitted Frame – Cream
Kalopsia – Knitting Basket – Cream
JIAN :: Taradha Lights
Soy. Old books with coffee
Soy. Beaded curtain (white wood)
:HAIKEI: Classic Rug_2
:HAIKEI: look through the window gacha {2}