Welcome to today's edition of Sunday Sevensies! We're back and ready to fill these pages with nothing but news news news! But first, a brief time-out for an obscene for profit break.
This is what a whole lot of talk radio will do to a body, just the incessant chatter and loops can drive even the sanest person, well uh, insane. But I digress.
The last couple of scenes, we've been all but cooped up inside and so today, we're out in the wide open, breathing in the crisp clear air that 4000m above ground will give you! Never mind that its not real air you're breathing!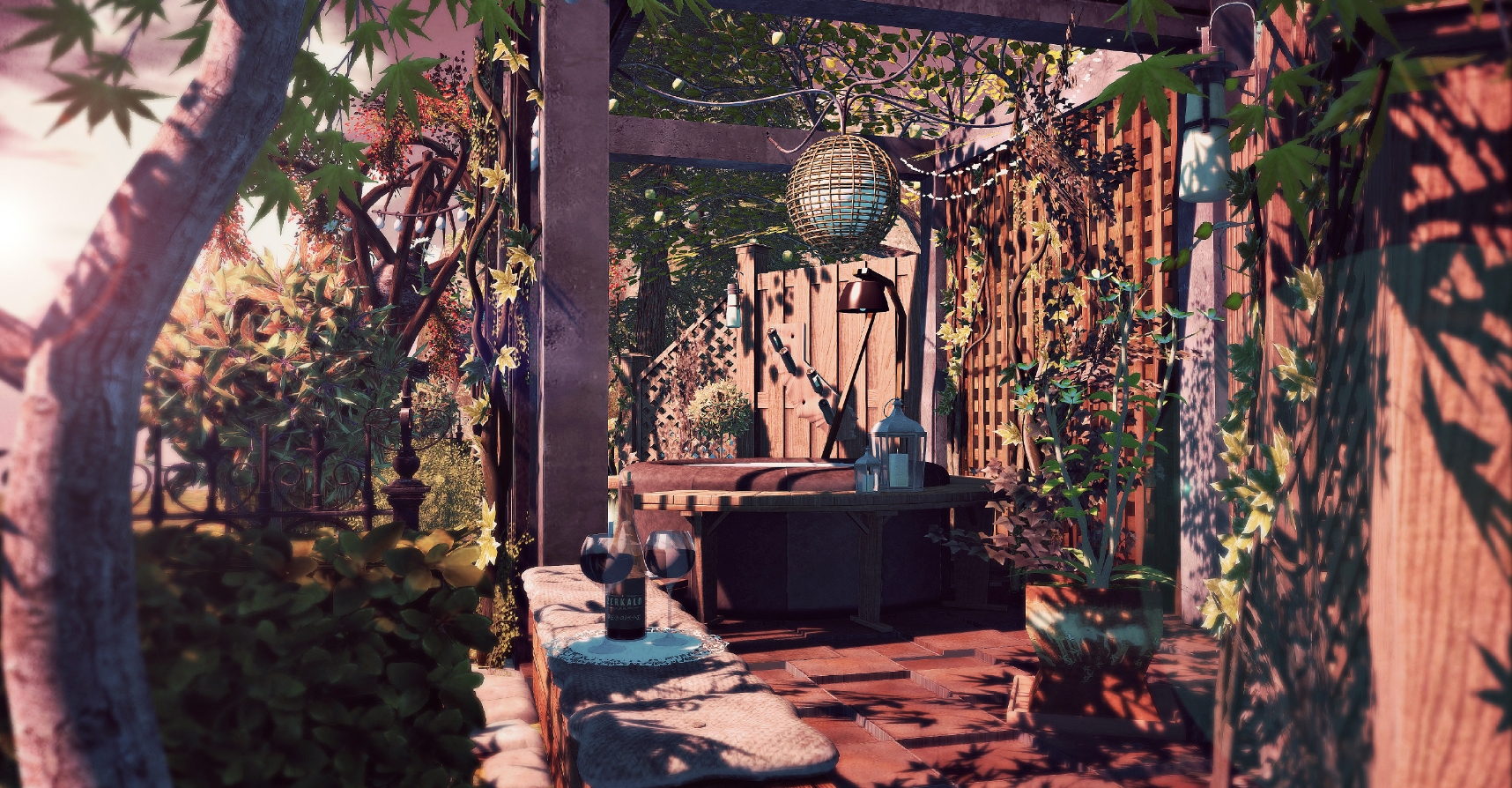 So here's a fun list I compiled that has helped me stay focus while  playing with outdoorsy stuff. If anything, they serve to keep me going overboard, because lets face it, Cozey likes going overboard
*Don't be afraid to test a product for copy/mod rights. Just make a copy of the original first, then tinker away.
*Edit-Link-Parts is not a fancy new compound word to help with your essay writing. Edit-Link-Parts can either break your pieces or be just what you need to 'fit' something in just right.
* Invest in landscaping products that are copy/mod.
*Lock your build before you go afk or log off for the night. SL will eat your stuff and leave no tips on the table.
*Flexi Trees and Plants are still relevant!
*Prim string lights however, are not. These are the flat, transparent prims with just a flashing texture slapped on. There are literally dozens of creators who have made decent mesh string lights. Search 'string lights' on Cozey and I'll bet you'll find at least one! Or look through the credits whatevs.
*And last but certainly not least: Full bright items. Having full bright turned on will only serve to mess with your lighting so I prefer not to have full bright on anything. But then, that's just me 🙂
Is there anything ya'll would like to add?
Thanks for stopping by on your weekend blogscroll. Do be sure to peruse the credits, I've added some notes, and if you have any questions or comments, feel free to leave them in the box below.
---
*The Loft Demerara Hot Tub and Privacy Screen | FaMESHed
The Loft – Demerara Hot Tub PG
The Loft – Demerara Screen & Platform
~heavily modified
The Loft – Multi-Candle Lantern Java
The Loft – Single Candle Lantern Java
The Lofty Empty Lantern Java
The Loft – Demerara Lantern
[ zerkalo ] The Piano Bar – Candles | FaMESHed
[ zerkalo ] The Piano Bar – Cognac | FaMESHed
[ zerkalo ] The Piano Bar – Wine | FaMESHed
*Ariskea's California Vineyard Set | 6 Republic
Ariskea[California Vineyard] Vineyard Hideout
Ariskea[California Vineyard] Vineyard Seater
Ariskea[California Vineyard] Vines Corner
Ariskea[California Vineyard] Vines Straight
Ariskea[California Vineyard] Vineyard Floor Add-on1
Ariskea[California Vineyard] Lights Bulb
*Cube Republic Douglas Fir 2 Small | 6 Republic
*unKindness Garden Arch Path Iron Gate | Love to Decorate The Event
*Jian Hillside Orchard :: Apple Tree (High LOD)  | Love to Decorate The Event
[ zerkalo ] California – Wine Rack | 6 Republic
*!six o'clock! geometric lamp – wood | On9
These are all subscriber gifts! 
Hayabusa Design Japanese Maple High Details M15-10 v1-4 P1-G
Hayabusa Design Populus Serotina Peuplier OPTHD-F M20 v1-1 Gift
Hayabusa Design Art tree M1 v1-1 T11
Hayabusa Design – Field 2 of Grass and Flowers M4 v1-1 T1 G
Hayabusa Design Centaurium erythraea Gift 01-08-2015
Other Credits
*Heart – Ancient Maple – Sapling 2
Kaerri Fall Topiary
22769 ~ [bauwerk] Terracotta Flowerpot
[ keke ] star string
[ keke ] willow shrub
=EliBaily= Ivy
Polenth's Mushporium Meadow Grass – Brownish
Stormwood ~ Cobblestone Floor
Apple Fall Trimmed Box Hedge
Apple Fall Bushmead Railing Post (Black)
Frog Garden Black Ivy