6º Republic, one of Second Life's more prominent and fairly new home and garden shopping event opens their second edition, today at 12pm SLT. Here are a few reasons why you should bookmark the limo before everyone else and their momma decides to take shotgun:
You get to browse and shop through California and Chicago in one trip!
You get to see all of your favorite home and deco brands in one location!
You uh, get to test out all the furniture
If you've ever been to a 6th Republic event, you'll immediately notice the attention to detail as this is one of the best, well oiled machine of a shopping event I have ever had the pleasure of representing.
No one paid me to say that not even with cookies.
Did I mention shopping in California and Chicago in one trip?
There are unique pieces you won't find anywhere around the grid that is fall themed or holiday for that matter. Bloody awesome that is. (I'm still an Autumn girl however)
And because I live in the Emerald City (Seattle), it never occurred to me that there was ever a question of which part of the country I would most likely choose or be well suited to.
What can I say, I'm a west coast kind of gal.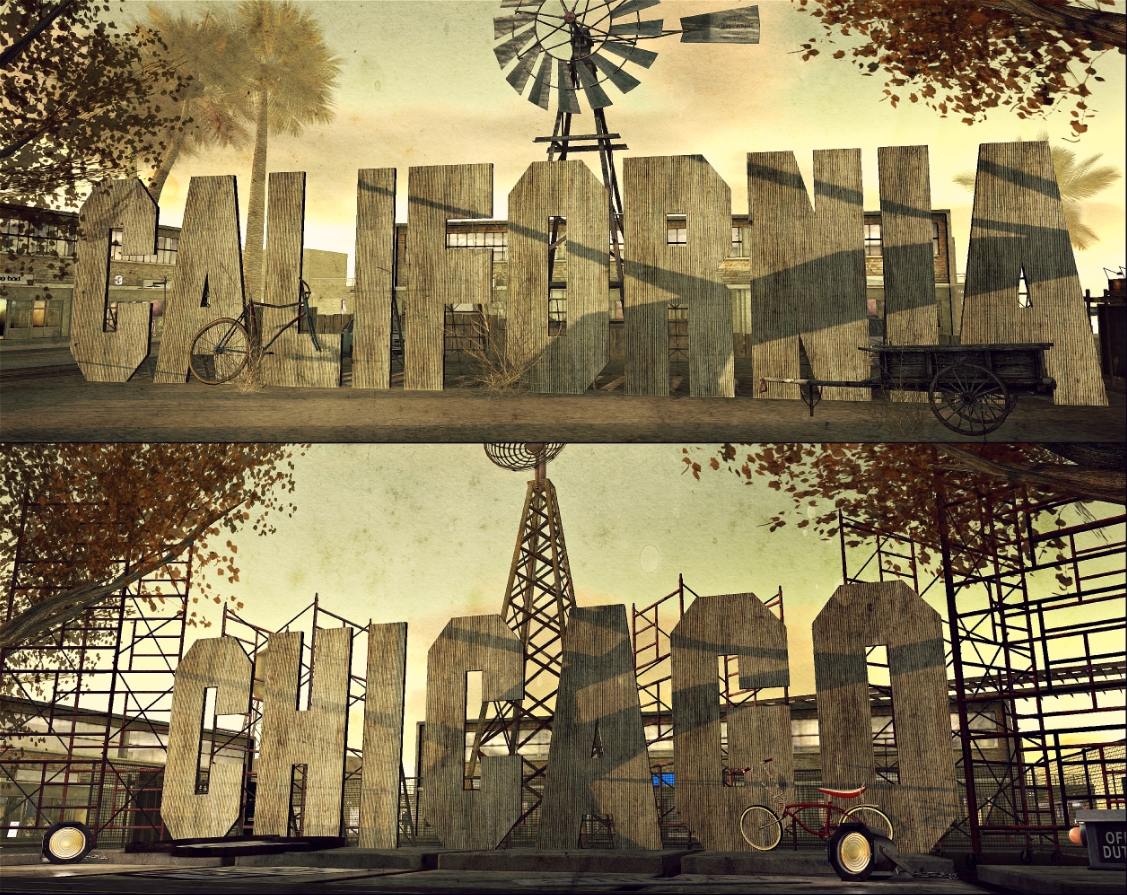 I'm including several links to everything 6º Republic. The Flickr group is now teeming with ads and other blogger images, you'll definitely want to check them out. Maybe make a list or two.
From what I have seen through advertising, the designers have truly outdone themselves. My picture could never do these pieces justice, so for reals folks, make your way there for a more detailed look.
If you have any questions, comments, or need the name of the closest barber shop in Seattle, hey I can help with that too you know, feel free to use the comment section below or sneak an IM, I'm good for it.
Thanks for stopping by today fellow lurker, and here's to a marvelous Friday finding frenzy!
*Event Date: Nov 6 – 20 2015
*Opening time: 12 pm slt
* Theme: Chicago VS California
---
The following items can be found at 6º Republic November 6th 12pmSLT to November 20th.
Limo to 6th Republic (please note the region will go public at around 12pm SLT)
Di'Cor's Kens Living Set
Di'Cor Ken's Beanbag (Brown)
Di'Cor Ken's Beanbag (Rust)
Di'Cor Ken's Cassette Table
Di'Cor Ken's Corded Rug
Di'Cor Ken's Pipe Lamp
–ANHELO–H02RN-15AGA :: old garage
–ANHELO-M09RN-15AGA :: workbench
[Commoner] California Dreamin' / Gallery Shelf (Decorated)
[Commoner] California Dreamin' / Salvaged Console
[Commoner] California Dreamin' / Table Lamp
[IDEZA Furnitures] – Camarillo Book Seat
[IDEZA Furnitures] – Fan Light
[IDEZA Furnitures] – Licensed to Bear
tanakamura – kagu's mobile disco and low chari set
[tmk] low-chari black
[tmk] mobile disco S.S (mid range)
[tmk] mobile disco S.S (tweeter)
[tmk] mobile disco S.S (woofer)
[tmk] mobile disco scripted
[tmk] wood box (white)
BALACLAVA!! Kehoe Room Divider (Metal)
BALACLAVA!! Kehoe Vintage Poster (Guitar)
BALACLAVA!! Kehoe Vintage Poster (Trumpet)
MadPea Hoodlums' Hideout – Empty & Full Whiskey Glass
MadPea Hoodlums' Hideout – Ceiling Fan
MadPea Hoodlums' Hideout – Pea Whiskey
Death Row Designs scaffold bottom poles
tight. chicago loft – hanging sign
---
Other Credits
[Toiz] broken tv
[Toiz] papercub tower
[Toiz] fade out trash can
{theosophy} California Clock (Shore)
Apt B // Old & Rusted – Hanging Rags
[ keke ] bucket of lemonades – orange
Cheeky Pea Falling Over Books
PILOT – Maps Basket
DIGS – Stanley Jukebox – Antique [MESH]
Apple Fall 'iFall' Notebook 2015 Media Edition
Stockholm&Lima: Bicycle Wheels