A really neat hack I've learned to give my snapshots that paper-y, vintage-y mood is to overlay them with various textures. And the loveliest bit, you don't need Photoshop or a degree in digital arts to do it. (But its cool if you do, soo..)
Picmonkey is a free  browser based photo editing app that includes texture blending in their many options to improve or add to your picture.
Texture blending basically means placing another 'picture' over your image and 'blending' the two together. I don't really know the science or photography gobble-dee-goo to explain it, there are tutorials up the wazzu I'm sure you could look up.
What I do know is that sometimes when I take a snap, even with the best windlight and screen resolution, I find there's always room for a little 'pop'.
>>Link to PicMonkey's 'How to add photo Textures'<<
Hopefully my subterranean ultra raggedy step by step tutorial makes sense: (I'm soo sorry!)

1. Go to PicMonkey.com and click 'Edit' to choose an image from your PC.
2. As soon as you choose your image, it'll be placed on a canvas with various tools on the left side. Click on the diamond-y looking uh button (7th down). This will open another side bar next to the tools.
3. You can use the ones PicMonkey already provides or you may download your own and click on the 'Your Own' tab to upload, uh, your own. (broken record much?)
My favorite types of textures are usually warm toned and have little to no detail or actual texture. Here's a link to one of my favorite texture sets that you can download for free onto your computer.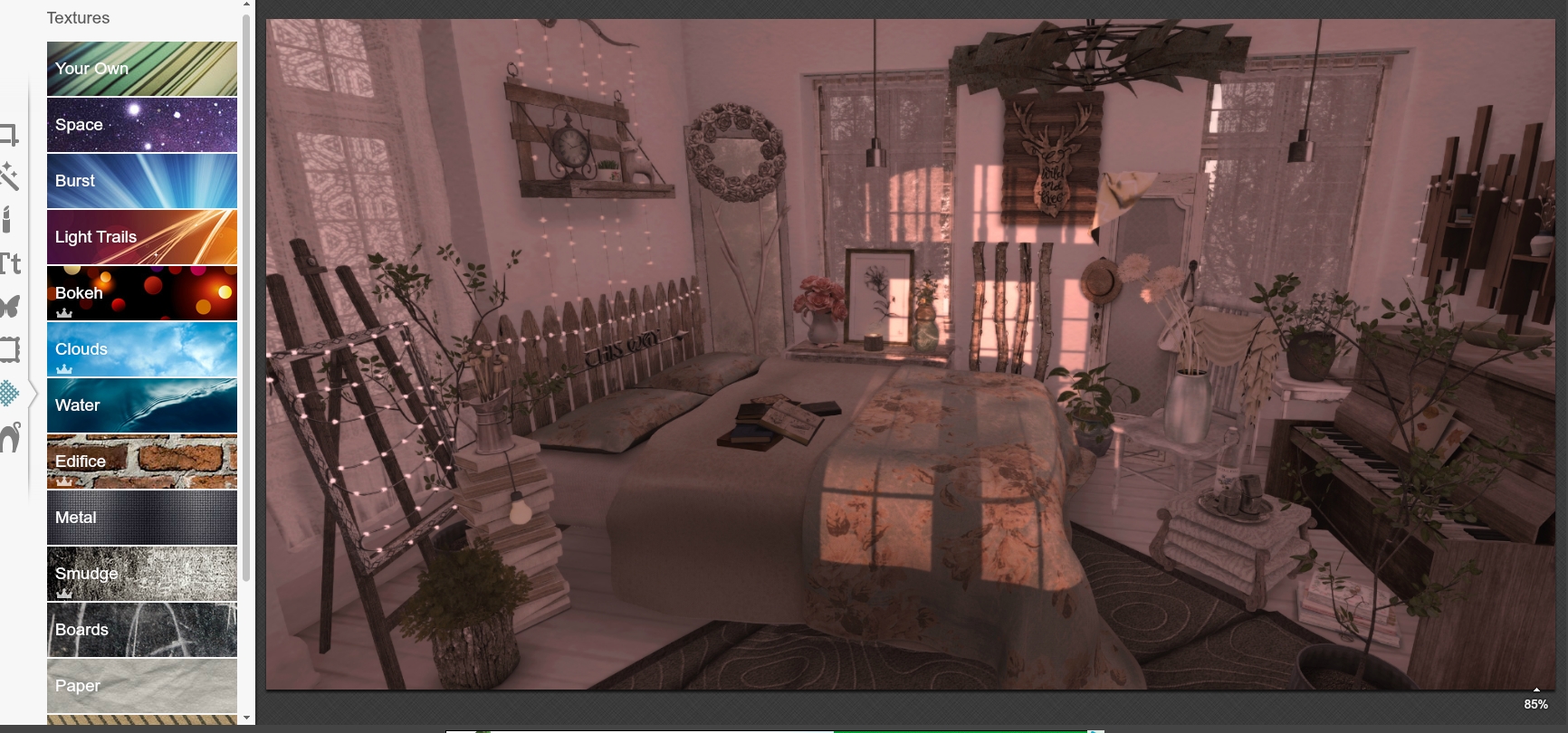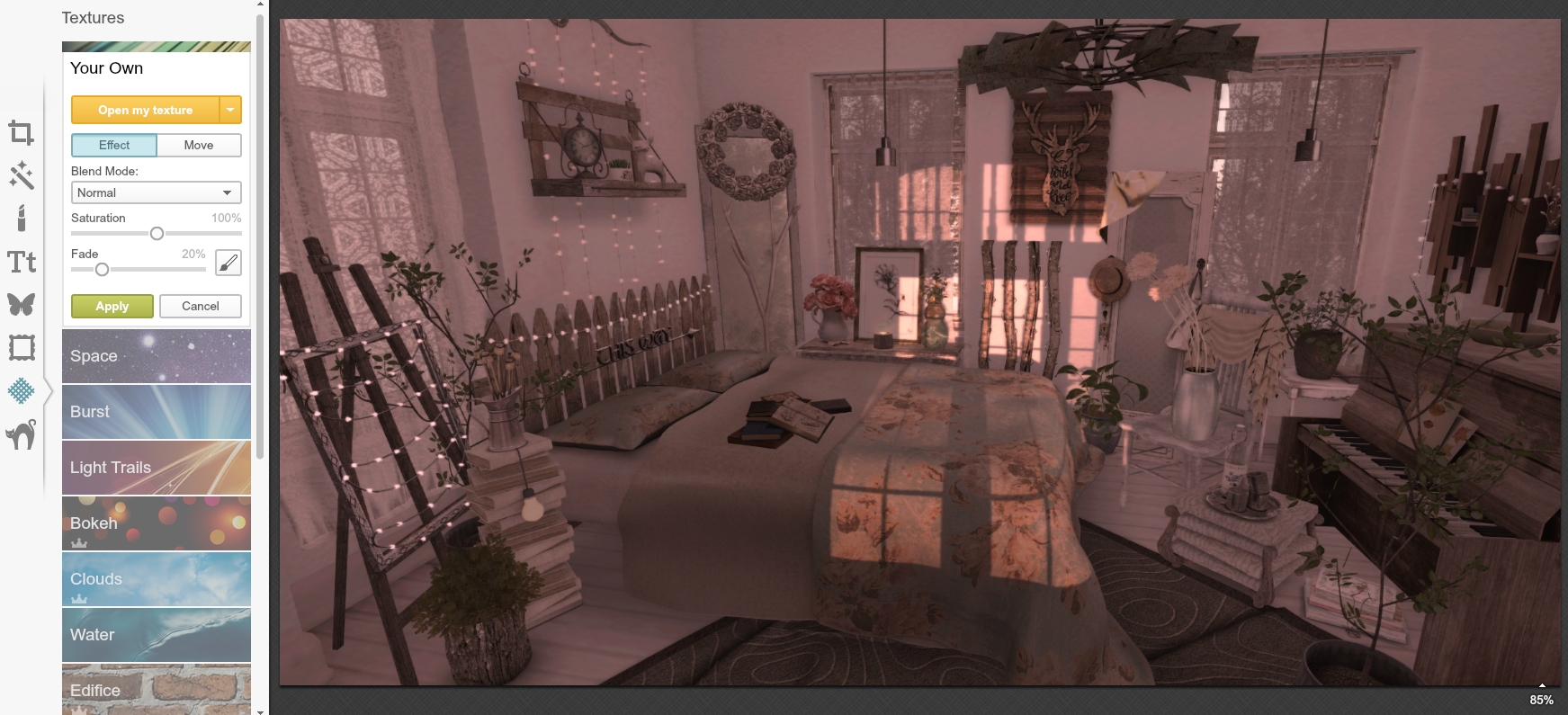 Let us reiterate for word count's sake:
In PicMonkey, grab your main image/snap
Click on the Texture button (near bottom of toolbar)
Choose 'Your Own', click Open my Texture
Find your  picture/texture you wish to use
Choose Overlay in the dropdown menu under 'Blend Mode'
Fiddle with your sliders to get your snap where you want
Click Apply
Save, save, save
Have a cookie.
I hope through all that muck there were at least one of you fabulous lurkers that sorta got where I was going. With a bit of patience and some sass, you can tackle photo-editing like a boss!
Feel free to leave a comment, suggestion, question, rant, snarky come-back, or dinner recipe below, we welcome them all and replenish drinks too!
Tarte has released a lovely bed and deco set for FaMESHed along with several of your favorite home and garden designers and their exclusives as well, do check out the ole' credits!
---
*tarte. fence post bed (Natural) | FaMESHed
*tarte. bedside rope light | FaMESHed
*tarte. rope wall shelf (natural) | FaMESHed
*[PM]Pixel Mode – Aderley Rug – Taupe | FaMESHed
*[ARIA] Hayden Floor Mirror | FaMESHed
*unkindness– StiKs Lights_Light Wood | FaMESHed
Kalopsia – Old Plants – Matryoshka | MIX
Kalopsia – Old Plants – Blue Pot | MIX
*tarte. upcycled easel lights (dark wood)
*ionic* ilumina
+Half-Deer+ Deer Planter – White
+Half-Deer+ Minimalist Tree – Grey-brown (no shadow)
Apple Fall Roses Jug
=EliBaily= Sherwood Candle 01
Apple Fall Roses Jug
Apple Preserved Poppies
Apple Fall Elderflower Cordial
Apple Fall Gilt Frame (Sea Campion Study)
Kalopsia – Book Pile Lamp
Kalopsia – Deer Deco – Trees
Kalopsia – Fancy Chair
Kalopsia – Train Station Clock
PLAAKA CottonBowl
Pixel Mode – Fall Harvest – Windmill Ceiling Fan
Scarlet Creative Rustic Lace Table
Scarlet Creative The Arcade June 15 – Artist Desk and Plant
Soy. Vintage lace curtain (cream)
[Toiz] 4. Autumn Piano
dust bunny . blossoming flowers
dust bunny . book pile
dust bunny . flutter skybox
floorplan.&Willow. apothecary books
junk. potted tree.
junk. vintage teacup planter.
tres blah Decorative Door RARE
{anc} sleepwarking. rose wreath. vintage cream
{anc} sleepwarking. thisway sign
{yumyum} Wooden planter Khaki